On September 5th 2017 we are very fortunate to be able to welcome Peter Liddle MBE, to the Blidworth Welfare Function Room.
Peter is a first class speaker and the evening promises to be a fascinating illustrated talk on the subject of the death and burial of Richard III.
Peter Liddle has worked in Leicestershire Archaeology for over 40 years as a survey officer, an excavator, a museum curator, a community archaeologist and Head of the County's archaeological team. He was awarded an MBE for services to community archaeology and is an Honorary Visiting Fellow at the University of Leicester School of Archaeology and Ancient History.

King Richard III was King of England from 1483 until his death in 1485, at the age of 32, in the Battle of Bosworth Field. He was the last king of the House of York and the last of the Plantagenet dynasty.
After the battle Richard's corpse was taken to Leicester and buried without ceremony.
His remains were lost for more than five centuries. In 2012, an archaeological excavation was commissioned by the Richard III Society and this was carried out on a city council car park.
As a result of radiocarbon dating and comparison with contemporary reports of his appearance, the University of Leicester identified the skeleton found in the excavation as that of Richard III.
Comparison of his DNA with that of two descendants of Richard III's eldest sister, Anne of York, confirmed the identification.
Richard's remains were reburied in Leicester Cathedral on 26th March 2015.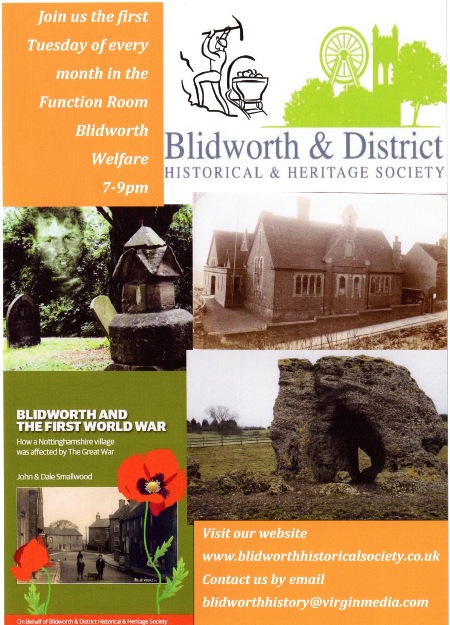 The Blidworth and District Historical & Heritage Society continues to meet on the 1st Tuesday of each month with a starting time of 7pm and the meetings normally end at 9pm.
Our monthly meetings venue is now in the Function Room Building at Blidworth Miners Welfare.
Car parking is free courtesy of the Welfare Management Committee.

All members and non members are very welcome and audience participation is encouraged.

If you are interested in joining us, want to know more about Blidworth and the surrounding villages or are just curious about what we do,

We can be contacted by email (see poster opposite)
You can also follow us on Facebook and twitter

We would be extremely grateful to hear from anyone possessing old photographs, documents, or memorabilia and who would be willing to donate or loan them to the Society.